OF DANGER TO THE RICHMOND
BIRDWING BUTTERFLY

DUTCHMAN'S PIPE VINE
Aristolochia elegans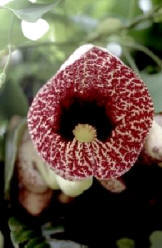 (Photo credit: Dr Don Sands)

Dutchman's Pipe is a distant relative of the Richmond Birdwing butterfly's native larval food plant. It emits a substance that tricks the female butterflies into laying their eggs on this vine. It was a very popular introduced vine, planted in gardens. It is now a bushland weed.
Dutchman's pipe vine is a vigorous exotic vine that originates from Brazil in South America. This vine typically grows in protected situations with high humidity, in full to medium light. It has been (and still is) cultivated as an ornamental plant in suburban gardens but has turned 'garden escapee' and over time has spread into bushland, including local rainforest remnants
Dutchman's pipe vine is also known to be fatally attractive to the Richmond Birdwing Butterfly Ornithoptera richmondia; a large and spectacular butterfly once common in the Brisbane region.
Unfortunately, female butterflies find the foliage of Dutchman's pipe vine extremely attractive as a food plant for their larvae. Richmond Birdwings are known to lay their eggs on the foliage of Dutchman's pipe. The result is that the emerging hungry larvae are quickly poisoned by the toxins in the leaves of Dutchman's pipe vine, thus restricting successful re-establishment and expansion of viable Richmond Birdwing populations.
Dutchman's pipe vine is recognised by its broad, heart-shaped leaf with a distinct curved leaf base. Leaves are arranged alternately along the climbing stem and can be up to 12 cm long. The under surface of the leaf is a distinct pale grey-green with a waxy lustre. Stems of young vines are slightly channelled and corky, whilst larger vines are covered with a fissured corky or spongy brown bark that can be easily rubbed off

Another distinctive identification feature of this vine is the fruit - a segmented papery capsule (up to 6cm long) which opens like an upside down parachute and can remain attached to the vine stem for some time after opening. Each capsule contains around 350 papery, tear shaped seeds which are spread by wind or water (when growing along creeks).
McDonald, G.J., (1998)
Growing a butterfly garden in
South east Queensland.

Bower, S., (1998) Weed Sheet No. 10
What's eating your remnant?

Dutchmans pipe in Big Scrub
Rainforest Landcare Group Newsletter March 1998